Get Private 1 on 1 Online
Geology Tutor
Are you looking for an excellent geology tutor for online tutoring sessions or to help with your homework and assessments?
Ace your Exams & Homework
Top Tutors • Top Grades • 24X7 • Affordable  • Online Geology Tutoring Service
Geology Tutors/Homework Helpers
Don't compromise your Grades! Start getting A+ 
 in your Homework & Exams with an excellent Geology Tutor.
Geology Tutoring services online.
Tutor for Geology. Also get help with Geology homework.
Geology Tutor for live tutoring sessions. Can help in assignments, quizzes, homework etc.
Took 33 tutoring sessions for the Geology course
My geology tutor was highly experienced, and the best part about his teaching was the straightforward manner in which he explained the concepts. I learned the quickest and easiest way possible. I recommend this site to my friends. Thanks! 🙏
Geology is made easy by homework services.
Although not a complex subject, it was made even easier by the geology assignment services of MEB. I never had to spend hours doing my assignments as I got a majority of the work done by the tutors, and I used the time saved in studying more essential subjects.
Affordable geology tutors and homework helpers
I needed help with my entire geology course, and MEB did not disappoint me. The experts did my homework for me. They provided steps as well, which helped me learn the subject. I also took 7 tutoring sessions before my exam and got an A. ❤️
Thomas Campbell
California
Geology Tutoring | Homework Help
How can MEB help with Geology?
My Engineering Buddy or MEB is a premier online tutoring and homework, help provider. We have handpicked tutors for many engineering, college, and university-level subjects, including Geology.
Online Geology Tutoring
Our team of geology tutors can help you with your homework and also provide private 1:1 online tutoring sessions over an online whiteboard. Our tutoring fees are very reasonable, and we have helped more than 10000 satisfied students over the past 15 years. Providing quality tutoring service is our motto.
Geology Homework Help
If you are struggling with a tough Geology assignment and need a helping hand, look no further. Our Geology expert helpers can deliver high-quality plagiarism-free homework answers to you to get top grades.
How does it work?
So, whether you are looking for a tutor for geology or you need help with your geology homework, we can help.
We provide a quick service that is just one WhatsApp click away. The student helpline team of WhatsApp will take down your request and forward it to the best matching tutor and tell you the fee. You can choose a convenient time for your tutoring or homework help sessions and make the payment. After you make the payment, the deal is final, and the service you booked (tutoring or homework help) gets delivered on time).
What is Geology?
Geology is a branch of Earth science, and it means the study of the earth (Ge=Earth + Logia=Study of). Earth science also consists of Hydrology and Atmospheric Science. Traditionally, Geology is the study of solid (rocks+minerals) and liquid earth (molten matter inside the earth, lava, etc.) and how they change over time. By using the dating methods (relative and absolute), geologists can determine the age of rocks. It helps us understand the history of the earth, and hence it enables us to make better decisions about the matter present on earth to our advantage. Geologists also determine the evolutionary history of life and the earth's past climates. Plate tectonics has proved that the continents keep moving, although at an extremely slow speed.
As humans are not bound to earth anymore, and companies like SpaceX are exploring the possibility of human settlements on Mars, geological science is no longer limited to the study of the earth. It has now become interplanetary.
Earth has several layers viz (1) inner core; (2) outer core; (3) lower mantle; (4) upper mantle; (5) lithosphere; (6) crust (also a part of Lithosphere). See the diagram.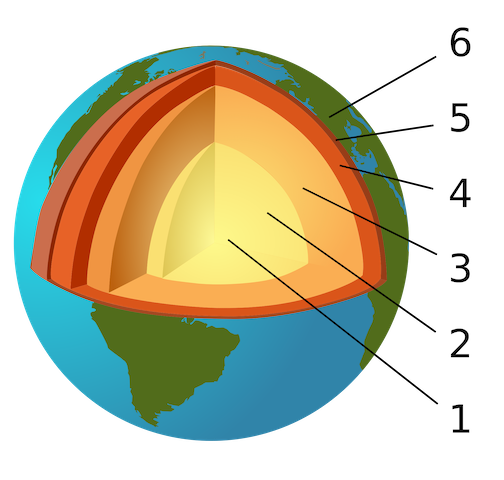 There are various methods of Geology like field methods, petrology, structural geology, and stratigraphy.
Applied geology has several fields like Economic geology (Petroleum and Mining geology), Engineering geology, Hydrology, Paleoclimatology, and natural hazards.
Engineering geology, geotechnical engineering, and soil mechanics are parts of a much bigger science called Geology.
Watch this quick YouTube video to know what Geology is
Geology topics
Plate Tectonics
Matter & Minerals
Igneous Rocks & Intrusive Activity
Volcanoes & Volcanic Hazards
Weathering & Soils
Sedimentary Rocks
Metamorphism & Metamorphic Rocks
Earthquakes & Earth's Interior
Origin & Evolution of the Ocean Floor
Crustal Deformation & Mountain Building 
Mass Movement on Slopes
Running and GroundWater
Glaciers & Glaciation
Deserts & Wind
Shorelines
Geologic Time & Earth's Evolution
Global Climate Change
(Credits: Essentials of Geology, 13th Edition by Frederick K. Lutgens, Edward J. Tarbuck, Dennis G. Tasa